Author: J.K Rowling under the pen name Newt Scamander (who is a character in the HP universe)
Title: 'Fantastic Creatures and Where to Find Them'
Length: 72 pages
Goodreads:
Straight from the library at Hogwarts School of Witchcraft and Wizardry, a book of magical creatures that no Harry Potter fan should be without!

A copy of FANTASTIC BEASTS & WHERE TO FIND THEM resides in almost every wizarding household in the country. Now Muggles too have the chance to discover where the Quintaped lives, what the Puffskein eats, and why it is best not to leave milk out for a Knarl.

Proceeds from the sale of this book will go to Comic Relief, which means that the dollars and Galleons you exchange for it will do magic beyond the powers of any wizard. If you feel that this is insufficient reason to part with your money, I can only hope that passing wizards feel more charitable if they see you being attacked by a Manticore."
The Book
J.K Rowling is everything I aspire to be – British, brilliant, and friends with Daniel Radcliffe (a girl can dream, right? :)).  She holds a near and dear place to my very bookish heart, and I just want to give her a big hug for introducing the world to the wonderful universe of Harry Potter. He's my broomstick ride away from real life every time I open the Harry Potter pages. Thanks, J.K!**
**Sidenote: Ummm, I just reread that sentence and hawkwardly realized it sounds like I'm saying Just Kidding every time I say Mrs. Rowling's name… um, let me look up her actual name. Alright, thank you very very much Joanne Rowling! (much better :D)
So the most recent addition to the wizarding world of Harry Potter is the movie coming out in 2016!! I am SO SO SO freaking out about this. eep can it really be that soon? I am so excited! Maybe even more excited than I was for the StarWars movie. 😀
So in honor of this gorgeousness coming out soon, I traversed the scary path of finding a copy of the book version of 'Fantastic beasts and where to find them', which actually, much to my delight (did you know delight is a brand of coffee creamer? yup. I just made a coffee reference :D), went quite well thanks to the interwebs having all and any information available at a keystroke. *thanks computer again*.
So I finally finished the book. It was interesting because it's not a novel like I was expecting. I hadn't read this book before because I wanted to read the other companion books like The Tales of Beedle the Bard (which I highly recommend, its awesome!) and The Unofficial Harry Potter Spellbook. Goodreads has a whole list of the other Harry Potter fliterificness here if you're interested.
The book was a 'Textbook' of sorts from Harry's school supplies list.  It covered in the very humorously dry monotone of Professor Newt the history of magical beasts, and then a comprehensive guide to where they live and how to find and deal with them in their various forms. I particularly enjoyed Harry and Ron's margin side chatter while they made fun of or added on to what Mr. newt had to say.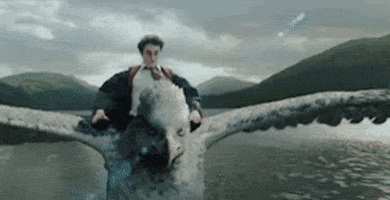 It was so witty and it made me laugh reading Harry's comments in the book. And reading the sometimes bizarre or ridiculous creatures Professor Newt covered was the best because he's so so dry. You have to read the Bowtruckle entry if you get the book. 😀
There's everything from Jarveys, huge talking ferrets :), to the Clabbert, a cross between a monkey and a frog, and the Glumbumble, a giant grey insect. And Newt moves on like its morning tea as usual. Thank you Mrs. Rowling for being brilliant.
The rest of the book is more of the entries on what magical creatures do and where they live and it is interesting, but it doesn't have a novel feel or a storyline since its supposed to be informative. It truly is more of a humorous textbook in that sense. If you're looking for stories, I would recommend reading Beedle the Bard, or doing some Harry Potter rereading. 🙂
My favorite entry of Fantastic Beasts and where to find them was of the Streeler. It's a venomous giant snail that changes colors, and it sounds… well… fantastic :D. I want a giant color-changing pet snail!
Streeler

M.O.M. Classification: XXX The Streeler is a giant snail that changes colour on an hourly basis and deposits behind it a trail so venomous that it shrivels and burns all vegetation over which it passes.
The Movie
Crazy magical creatures, an adorable cast, and directed by David Yates? Count me in with a magic Kneazle on top!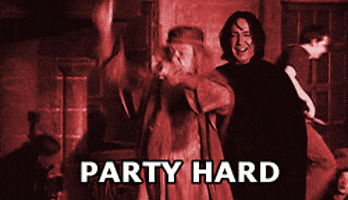 This movie is centered around a young version of  Newt Scamander (the author of Fantastic Beasts) and he's eccentric and brilliant in this role. Newt is played by the handsome (see picture below) Eddie Redmayne, who seems perfect eep for this part. He has a love interest in 'Tina' (her full name is Porpentina, but she goes by a nickname) from a ministry of magic in America. I can't wait to see how J.K Rowling is going play it into Newt's story. Why would she get to play it in? you might ask. Well, actually, J.K Rowling is the screenwriter for the movie because she didn't want to release it to someone else.
The first teaser trailer for the movie came out recently and you can see it here. I hope you enjoy! The hp wikia also has some more info on the plot here, if you're curious about the details of what's happening and more trailers and other things.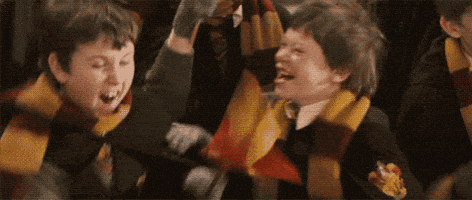 As for reading the book before seeing the movie, I would reading the introduction, Dumbledore's notes, and Harry and Ron's commentary throughout the book. And reference the book for animals you think are cool (like the giant snail :D). The rest of it is in textbook format, so it is more of a reference point than a read all the way through book. There are copies of it online too if you can't find it in your library or bookstore (or in your best friends closet :)).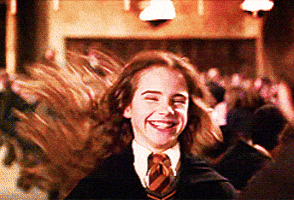 The movie releases (eeeep) around November 18th in 2016, so I'll see you then bookworms!
P.S: What's your favorite Harry Potter movie or book? Tell me in the comments!
Ladyliterature
Love Lots. Read Bunches. Smile Big.